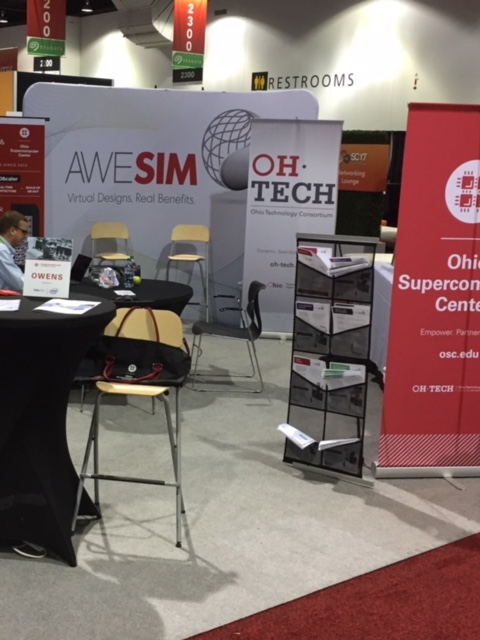 With an incredible SC17 Conference in the rearview mirror, it's time to sort through the business cards, promotional flyers, and follow-up emails and begin processing all of the information brought back from Denver. For the uninitiated, SC (supercomputing) events are the annual international conferences on high performance computing (HPC), networking, storage and analysis; essentially, the World Cup for big computer fans.
It is an eagerly anticipated global event for everything and everyone interested in extremely large, extremely fast, and extremely expensive university, government, and military computer systems. And while the bright lights, cool promotions, and flashy product displays are eye-catching, the best part of SC week always involves the networking opportunities with the people!
Gathering all of these technology professionals in one location gives attendees from the Ohio Supercomputer Center (OSC) the opportunity to see old friends and make new connections with fellow members of the dynamic HPC community. My OSC colleagues attended workshops, made technical presentations, met with current and prospective suppliers, and visited with a variety of exhibitors to learn more about the innovations that will shape our industry in the coming years. As HPC technology moves toward exascale computing speed — that's a billion billion calculations per second — keeping up to date on the amazing industry advances becomes a critical part of OSC's mission to serve the universities and businesses throughout Ohio.
SC17 offered the opportunity to interact with the hundreds of people who visited our booth to learn more about the Ohio Supercomputer Center. Many folks wanted to chat about specific research projects that were conducted on our systems (and highlighted on our booth monitors), and some wanted to learn more about how AweSim is working with small- and medium-sized commercial accounts to scale up their computer-aided engineering efforts. HPC centers from across the country and around the world hold OSC and OARnet leadership in high regard, and those entities continue to look to our organizations for innovative ideas on academic research and industrial engagement initiatives.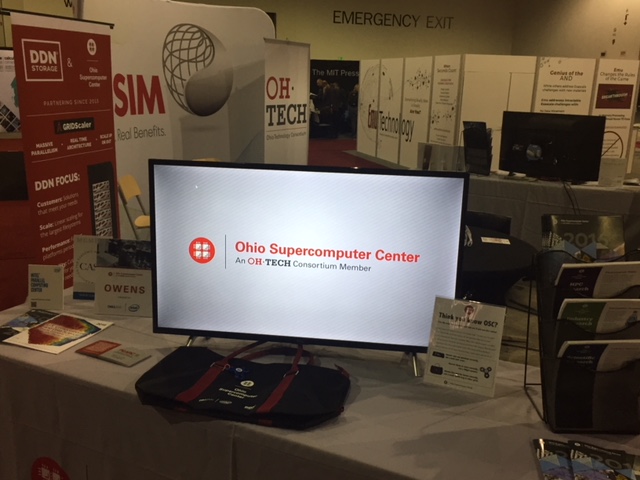 A number of people came to the OSC exhibit to learn more about our exciting open-source HPC portal Open OnDemand. Launched in September 2017, this NSF-funded project gives HPC centers a dashboard plug-in to launch interactive desktop sessions. This "one-stop shop" concept for access to HPC services is already being used by several supercomputing centers, and many more are interested in testing and evaluating the package. It was clear that the Open OnDemand release has generated a buzz within the HPC community, and it will be a big step toward the goal of bringing HPC resources to a more diverse group of users.      
SC17 is over, but the OH-TECH communications team has already started preparations for next year's SC18 Conference in Dallas. Our heads are filled with information on augmented reality, artificial intelligence, deep learning, big data and analytics, and ever-more-massive processing capabilities for the next-generation systems.
Over the next week or two, the OSC staff will contact all of the people who requested more information on our amazing HPC resources, the trailblazing AweSim industrial outreach program, and our popular Open OnDemand web portal. SC17 gave us an opportunity to learn, to share, and to connect with like-minded folks who share our passion for innovation. We're back home now and ready to get back to work!