Many who aren't familiar with OARnet are blown away by what it does, and provides Ohioans, once they fully digest the full scope of the organization. Such was the case for Julie Hood.
Hood joined the OARnet team as its program coordinator in July 2017, she was drawn to the organization because she was interested in the challenge of working in an industry that was new to her.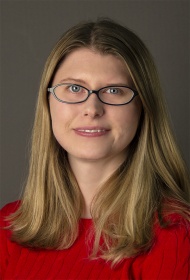 Hood recently spoke with OARnet about her favorite parts of her job, a performance she gave with gold medalist and figure skating personality Scott Hamilton, how she enjoys spending her free time, and which famous person from history she would most want to have dinner with.
Where did you grow up?
I grew up in Pemberville, Ohio a small town near Bowling Green.
What is your degree in?
I have a bachelor's degree in communication studies from Baldwin Wallace University.
What drew you to your position?
I was drawn to the challenge of working in an industry that I did not know much about. Having worked in administrative support positions, I wanted to continue doing that in a new setting.
What are your duties here at OH-TECH?
My main duties include arranging travel and related reimbursements for staff via OSU's policies and procedures, coordinating a variety of meetings and workshops, and taking care of any other administrative support needs. I'm the main person when someone calls and wants to schedule a conference room, and whenever there is an outside group here, I make nametags and help take care of parking passes and that sort of thing. I also help plan events for OARnet.
What do you like most about your job?
I enjoy helping others make the most of their time by offering administrative support. I have learned a lot about the wide world of OARnet/OH-TECH, and I am still learning more, which keeps every day interesting. As someone who didn't know that much about technology before, I've learned so much about how educational, health care, government, etc. institutions rely on what we do – providing internet, broadband and so many technological solutions. It's really amazing to think about how much of an impact OARnet has on all those industries.
What do you like to do in your free time?
I like trying new recipes, watching TV shows (especially Parks and Recreation), reading, and spending time with my husband and cat. I also ran a half marathon in October and hope to run another later this year.
Is there anything that people are surprised to learn about you?
When I was in fifth grade, I was in an ice skating show with Scott Hamilton. I'm from the Bowling Green area and so is he. He comes back there a lot to do ice skating shows. I only did ice skating for one year, but I was in this show playing a monkey. It was similar to the Lion King.
If you could have dinner with anyone from history, who would it be and why?
I watched a documentary recently on Maya Angelou, so I think I would want to have dinner with her. I would ask her about her advocacy with social justice issues, and what made her strive through all of the difficulties she went through.