I had the privilege of going on a mission trip to Haiti Dec. 4-8 with Food for the Poor. I was stepping outside my comfort zone in so many ways – I was flying for the first time in over 15 years and traveling solo, I was leaving my husband and son to fend for themselves, and I decided to reduce my use of technology. The technology reduction is no small feat, considering it consumes my career as part of the Ohio Technology Consortium's Shared Infrastructure team.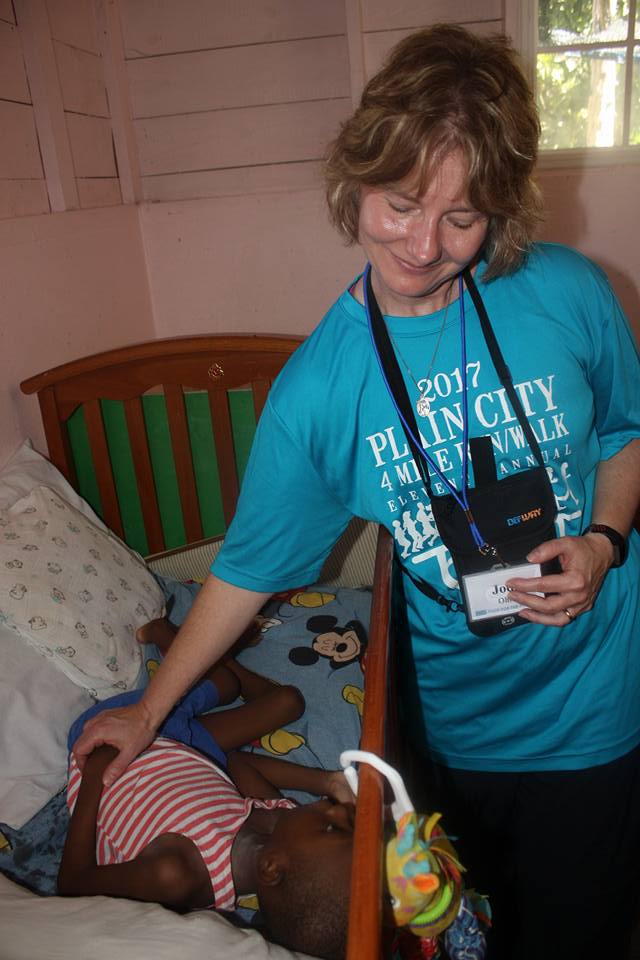 However, the decision to reduce my use of technology was two-fold: First, paying $10 a day to use the international coverage on my cell phone seemed wasteful given that I was going to be visiting the "poorest of the poor" during my trip. Second, I wanted to immerse myself in the culture and learn from this experience, rather than waste time playing with my phone.
While Haiti is a poor country, there are cell phones, though not in the abundance that we have here in the United States. In my family, for example, each of us carries a cell phone, but in Haiti, it's one phone for a family to share. Since most Haitians do not have electricity in their homes, they have to go to public charging areas. We walked past one of these stations in the airport, and the line of people waiting to charge their cell phone was out the door.
Monday afternoon of the trip had 16 of us gathered together at the Food for the Poor headquarters. There were individuals ranging in ages from 20s up to 70s, representing Ohio, Virginia, New York, Maryland, Minnesota, Indiana, Florida, and that "State up North." We learned about what we would see upon arriving in Haiti as far as housing, malnourishment, and the lack of such basic services as clean water and sanitation.
My cell phone went into "airplane mode" by 7:30 a.m. Tuesday morning when our plane took off from Fort Lauderdale for Port Au Prince, and it stayed that way until after noon Friday. My phone was used as a camera during our time  in the field. Our hotel did have WiFi, which I used for an hour a day at most; just long enough to check in via email and Facebook with some people in the U.S. who wanted to make sure I was safe.
We were greeted everywhere with open arms, smiling faces, and words or songs of gratitude. The Haitian people are so happy despite having so little. There is so much unconditional love, especially from the children, who just want to give and receive hugs or hold your hand.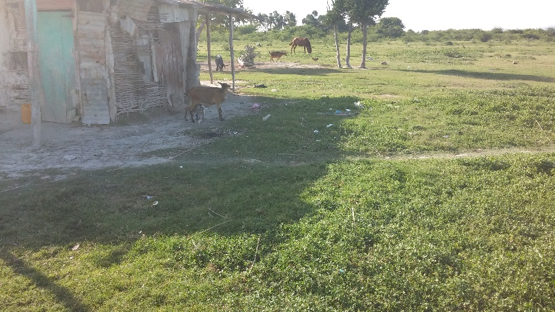 In the Village of Cottard, we met a family of 12 living in a one-room stick shack roughly the size of a bedroom in a standard American home. We handed out snacks (a water pouch and a pack of crackers) to children at a school. At the elderly home, I painted the nails of several ladies, danced the "Hokey Pokey," and shook hands while saying "Bonjour" with a smile. 
Visiting the elderly was emotional because I lost my mom in 2015 and my dad in 2016, but it was a way to honor their memories. In the new Alpha village, where Food for the Poor has built concrete block homes, we participated in house blessings where each family received a Bible and a care package filled with items for the children. One of the couples on our trip, Lois and Sandro, helped raise the $70,000 needed to build the homes in this village. After painting one of the homes, they presented the family with the keys. We visited a handicapped home for adults and children; walking through the room and seeing infants and children in cribs moved me to tears.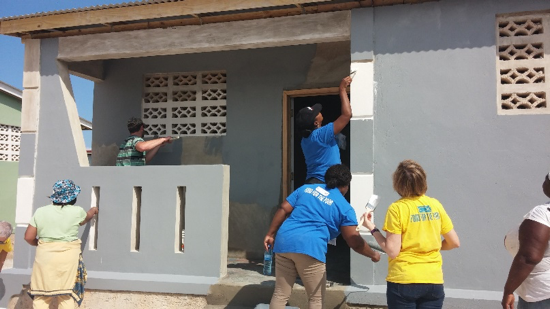 We returned to our hotel in the early evening and had a short break to relax before we all came together for dinner. I learned about this awesome thing called "conversation" that can happen between people where you look at one another and talk. Device-free dinners provide a beautiful opportunity to get to know those around you, and they allowed me to cultivate friendships with others of like values. After dinner, we had time for reflection, where we each shared something we learned or that touched us that day. 
Although I have returned to cold and snowy Ohio, and to my technology job, I will not forget the lessons of gratitude, unconditional love, and the importance of human interaction that I learned during my trip.