Programs for young women can decrease the gender gap in STEM fields
It's no secret there is a significant gender gap in each of the science, technology, engineering and mathematics (STEM) fields.
There are several research-supported reasons as to why this gap exists: girls are less likely than boys to consider themselves good at math or science; a masculine culture in many STEM workplaces may create an unwelcoming environment for women; and women often do not fit the stereotype of what a "scientist" should look like. In addition, girls find a small number of female role models in STEM careers, and haven't received enough hands-on experience with STEM problems in school.
A recent study by Microsoft found that young women generally become interested in STEM subjects around age 11, but many lose interest by age 15. This is exactly when a program such as the Young Women's Summer Institute (YWSI) offers a doorway for girls interested in STEM fields.
YWSI's value is important not only because of its students' ages, but also because of what it allows its students to experience. It provides young women with a non-male-dominated environment in which to learn more about science, which counters the notion that science careers are too masculine or unwelcoming to women. YWSI also boosts girls' confidence in their intelligence and abilities by providing them with opportunities to gain more hands-on experience with STEM topics than they might receive in school. And, YWSI provides the students with role models by introducing them to highly successful female professionals in various STEM careers, who are able to talk with the students about what their educational and professional careers entail.
During YWSI 2016, we asked students to fill out a daily survey about their favorite part of each day. The girls' feedback speaks for itself.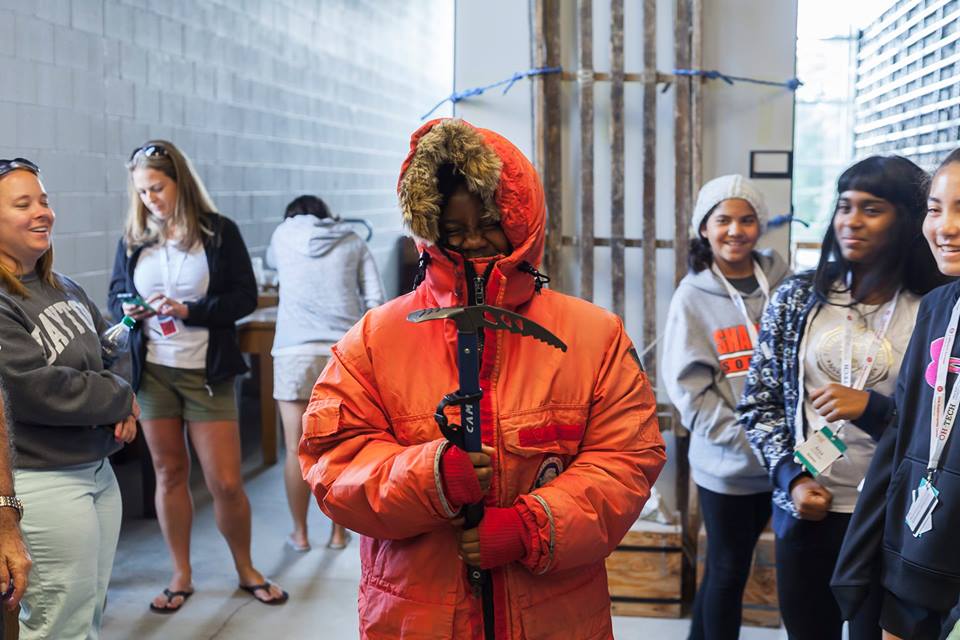 "My favorite part of yesterday was career night when everyone told their stories about how they got into science and math and their different professions. It was also really helpful when they gave us advice on how to stay confident and be yourself."
"My favorite part of yesterday was visiting the Byrd Polar Center. We met Ellen Mosley Thompson – the first woman to go to Antarctica – and she shared her experience in Antarctica."
"Today, I learned more about the ins and outs of creeks and streams, and worked with chemicals to determine the levels of some of the things in the water using pH, nitrate, hardness, and dissolved oxygen tests."
"My favorite part was picking the bugs off the mat because at first I was kind of afraid, but I was pushed to really pick them up. Picking up the bugs felt like conquering the world." 
"Making a webpage was my favorite part. Before this camp, I was trying to make a story for this game, but I didn't have a clue on how to do it. Now, I have somewhat of an idea, so I can do my story. This will really help me, and I'm glad that I learned how to make it. I know without YWSI I would have never learned how to make one for another few years, so I'm glad that I had that opportunity."
YWSI provides a challenging and welcoming environment in which young women can tackle hands-on STEM problems, learn more about STEM careers that they may not have otherwise investigated, and meet role models in a variety of science fields. By intercepting young women before they are likely to lose interest in science and addressing many other causes of the gender gap, YWSI can help inspire young women to one day pursue careers in science and narrow that gap.