Delivering modeling and simulation/high performance computing tools to small- and medium-sized companies.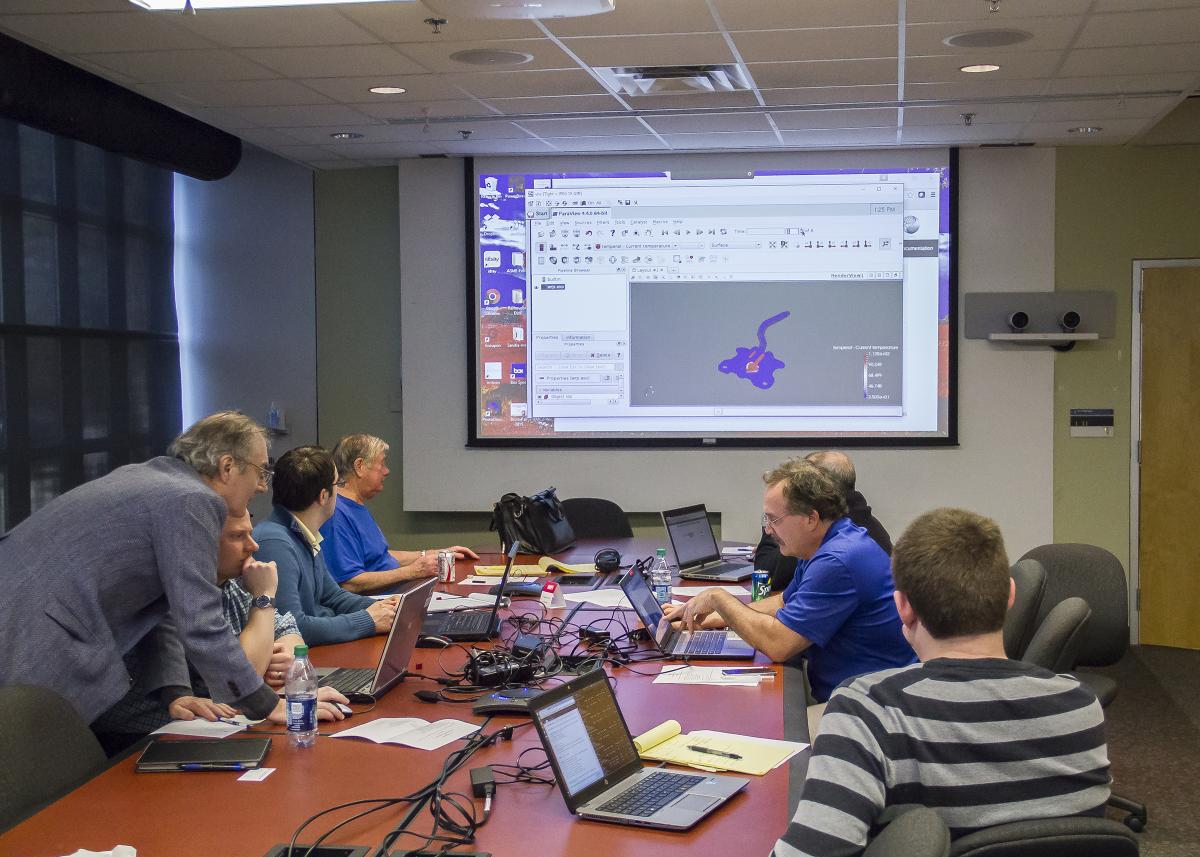 That is the common goal of the Ohio Supercomputer Center's AweSim industrial engagement program and the Engineering Mechanics Corporation of Columbus (Emc2). This week, OSC and Emc2 teamed up for a three-day training workshop on a Virtual Fabrication Technology (VFT) application developed by Emc2 and run through AweSim's "app store" on OSC systems.
VFT is a computational weld modeling software tool used to significantly improve processes to fabricate metallic products that employ welding to achieve final product configuration.
"The idea of this entire program was to bring smaller and medium-sized fabricators HPC capabilities for weld modeling software so they can make cheaper, better performing products," said Dr. Frederick "Bud" Brust, senior research leader at Emc2. "Larger programs have these capabilities but smaller ones don't have the resources."
Brust said the idea of the workshops – run by Brust and Jim Kennedy of Emc2 with support from OSC members – is to show attendees how to use VFT through OSC's OnDemand portal.
"Simulation-driven design traditionally requires high-end investment in complex hardware, sophisticated software, and extensive training, making it cost-prohibitive for small and often larger companies," said Alan Chalker, director of AweSim and director of client engineering at OSC. "AweSim is packing that technology into a series of needs-based manufacturing apps and making them available with support training to companies."
Attendees of the workshop included fabricators and specialists from smaller and medium-sized Ohio companies.
"The VFT app is just launching," Brust said. "VFT has been in existence, but it was much less convenient. We've had more complex versions, but we've been working with OSC to make simple point-and-click methodology so non-specialists can get in the game."
These workshops were one of the first in a series of training sessions on VFT software attended by participants both at OSC and off-site. The workshops also will be available via recording.
"There are a lot of companies from around Ohio who want to use it," Brust said. "We have a base of VFT users on the commercial side. There are some companies well into their design processes, but a lot of these smaller companies, they realize the value of it so they want to get into it. There's so much education and we're reaching out to companies to do that."