OhioLINK's most recent addition to the team is Johnathan Michael, the resource acquisitions and contracting assistant. Johnathan brings a degree from Ohio University along with a background in education and music to the OhioLINK team.
We recently spoke with Johnathan about his music expertise, what brought him to OhioLINK, and his role with the library consortium.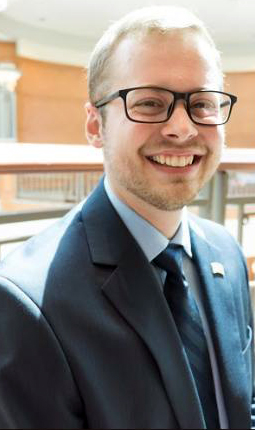 Have you always lived in Ohio?
Yes, I lived in Columbus until I was 5, then my parents moved back to their hometown of Pomeroy, which is where I lived until I moved to Athens, Ohio, in 2011 to attend Ohio University. I graduated in 2016 with a Bachelor of Music degree with a minor in communications. I moved back to Columbus in May 2017.
What did you do prior to arriving at OhioLINK?
I taught kindergarten at a private day care center in Gahanna. Prior to that, I worked for the Ohio University Alumni Association as a temp employee and was a maternity leave sub for a choir teacher in southern Ohio. 
What drew you to OhioLINK?
My background is in education, so the fact that OhioLINK works to help students in higher education have access to the resources to further their learning really appealed to me. 
What are your duties as a Resource Acquisitions and Contracting Assistant?
My duties are to help Amy (Pawlowski, OhioLINK deputy director and eResource licensing coordinator) with whatever she needs. That usually entails communicating with publishers and our member institutions. 
What do you like to do in your free time?
I like to work out at least five days a week because I love food a lot (eating is what I like to do in my free time). I also enjoy video games, playing my euphonium in a community band downtown, singing and playing pop songs on my keyboard, and I'm teaching myself how to play guitar. 
What's something people would be surprised to learn about you?  
That not too long ago I weighed 40 pounds more than I do now. Also, I was in an all-male a cappella group and frequently sang solos with them.