Imagine this scenario: You're doing research for a class, and you need a specific book to provide scholarly content in your paper, but you can't find it at your institution's library. Guess what, OhioLINK is the solution! If your library is one of 121 OhioLINK member academic libraries, you can check the OhioLINK Central Catalog or, as we love to hashtag, #AskaLibrarian! If you find the book you need, it can be sent to you from across the state with just the click of a button. Now all you have to do is wait a few days then stop by your library to pick up your book. OhioLINK makes obtaining a book incredibly convenient, but have you ever wondered what happens between the time of your request and your book delivery?

The journey of an OhioLINK book begins when an OhioLINK library purchases a book for its collection. A librarian loads the book's information into the library's local catalog and shares it with the OhioLINK Central Catalog. Once the information is there, users at any OhioLINK library can select the book, one of 46 million items in the Central Catalog, and have it sent to their member library.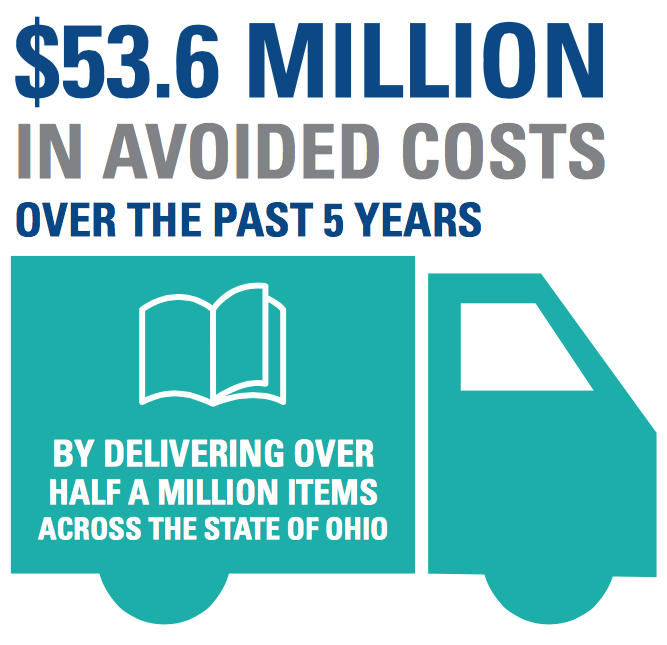 Once a request is received, a librarian at the book's home library finds it, checks it out to the requestor, and places it in an OhioLINK bag, along with any other books requested at that time.
OhioLINK's courier, Priority Dispatch, picks up the outgoing bags from the book's home library. Based in Cincinnati, Priority Dispatch has been the courier for OhioLINK since 2012 and transports more than 500,000 books and other library materials across the state each year. Nearly 55 drivers ship books to over 160 locations around the state. These stops include the regional sorting centers where the courier drops off the outgoing bags from the originating libraries.
Bags from across the state arrive at a sorting center where they are sorted by destination. The courier then delivers the bags to their journey's endpoint, your OhioLINK member library. Once the OhioLINK bag arrives, a librarian will process incoming books and notify you that your book is ready for pickup.
Whether the journey starts miles away or close by, OhioLINK delivers. Want another look at this process? Check out our Journey of an OhioLINK Book video and postcard.
Did you know?

OhioLINK's bags have a story of their own. Since 1998, OhioLINK has purchased its sturdy, canvas bags from Oak Valley Tarp, a small company located in Sugarcreek, Ohio, the heart of Ohio Amish country. OhioLINK purchases 2,100 bags at a time, and they are delivered within eight weeks. Oak Valley Tarp repairs the bags for a small fee, keeping supply costs low over time.