Editor's note: This is the first in a series of three blog installments about the Interface Lab at the Ohio Supercomputer Center.
I recently spent an afternoon tinkering around in the Ohio Supercomputer Center's Interface Lab. What felt to me like a mind-opening trip to a video game playground is actually a hub of innovation and groundbreaking discovery for computer and medical scientists. During its more than 30 years, the award-winning Interface Lab has provided resources and demonstrations to government, industry and academia, in an effort to promote adoption and adaptation of advanced interface technologies.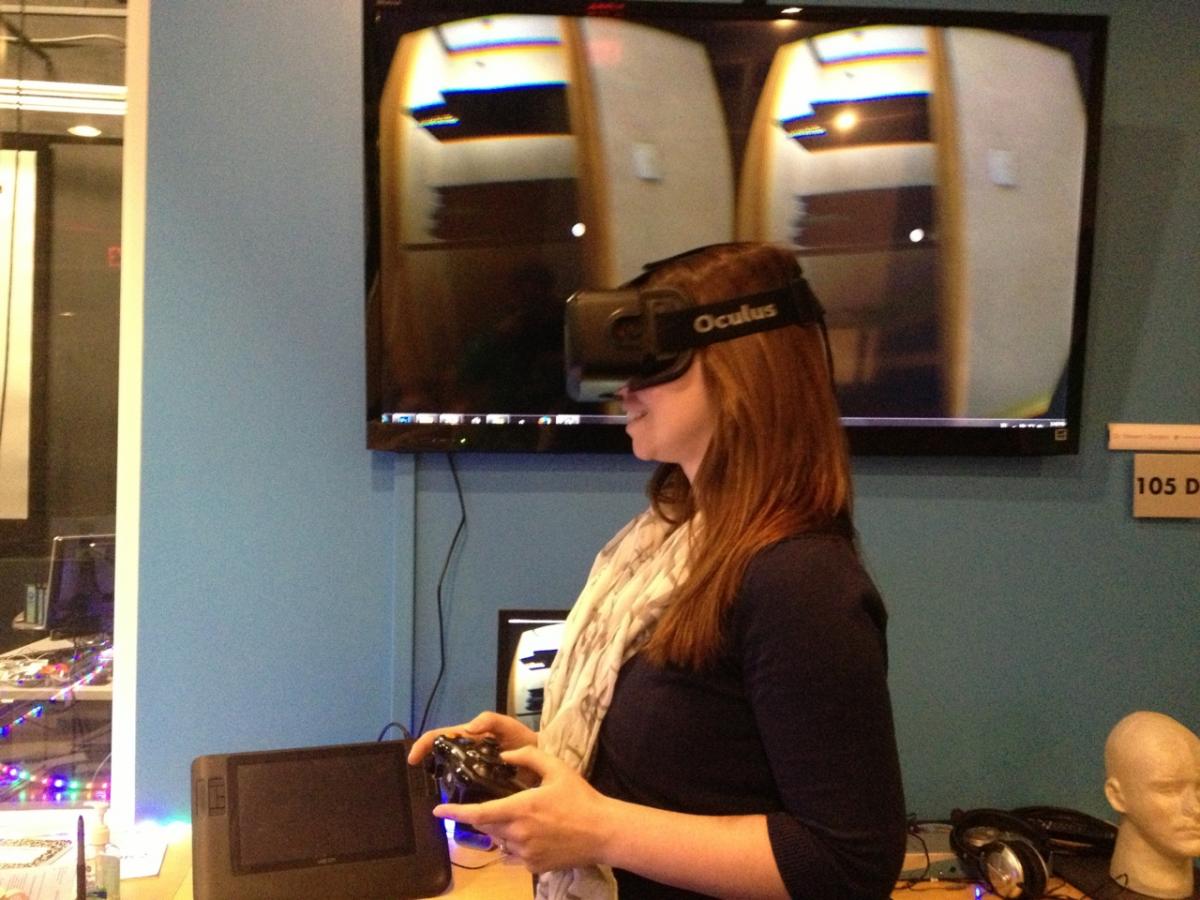 I walked into the house unsure of what to expect. Initially, nothing seemed outwardly dangerous – an older tube television and a Woodstock poster on the wall in the living room set a pretty innocuous stage. Moving into the kitchen, I found the first offender: a red-hot burner on the electric stove that was carelessly left on. What other dangers lurked in this house of hazards? An ashtray with cigarette butts? While an indicator of poor pulmonary health, I had been tasked only with identifying electrical and fire risks, and the used cigarettes were no longer smoldering. I jerked quickly to look at the other side of the kitchen and suddenly felt a wave of nausea.
"You know, you can just turn your head to see the whole room, you don't have to use the joystick every time," said a voice from the real world.
"Whoa!"
The Ohio Supercomputer Center's Home Health project, funded by the National Institute for Occupational Safety and Health (NIOSH) allows users to virtually step into the world of home healthcare by donning Oculus headsets that allow 360-degree viewing and using a game controller to navigate. They are then asked to answer questions about the environment and objects within the home.
With over 12,000 home health agencies and 4.7 million patients receiving home health care in the United States, the need for professionals in this field is ever-growing. According to the Bureau of Labor Statistics, "employment of home health aides is projected to grow 38 percent by 2024, much faster than the average for all occupations." While in-home care is a desirable option for many patients, administering medical care outside the controlled environment of hospitals or clinics presents unique challenges. These include fire hazards, lifting heavy objects, unfriendly pets and environmental cleanliness.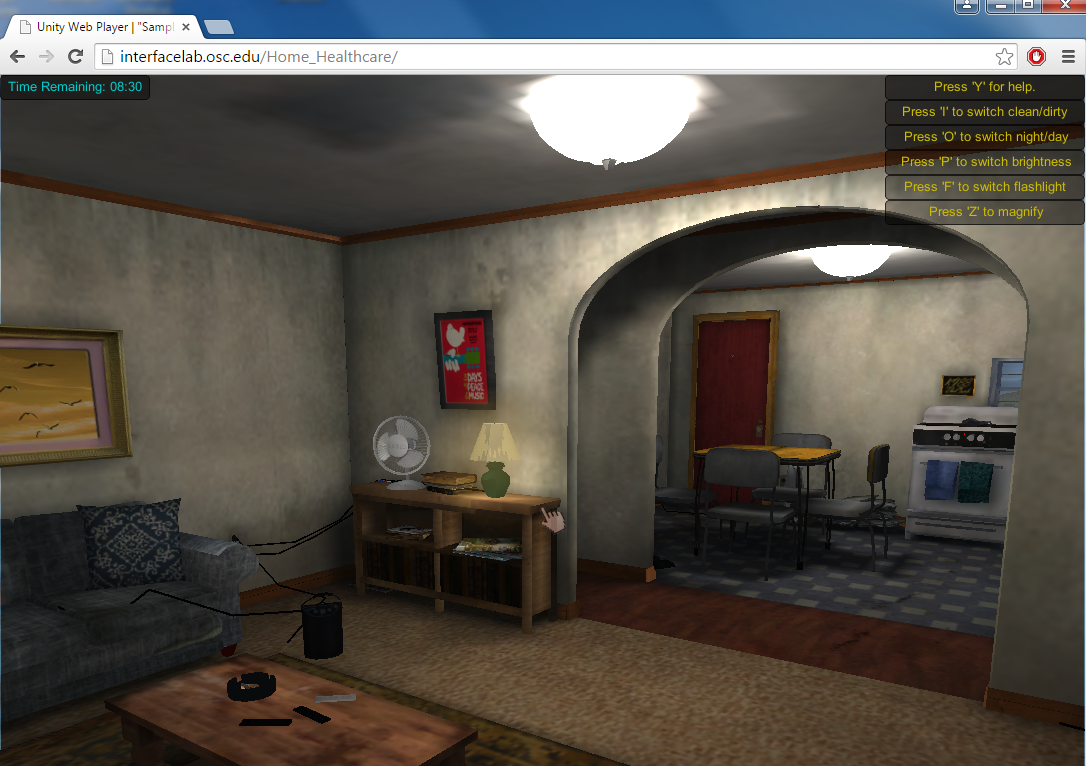 "We know that 60 percent of all injuries experienced by home health aides occur inside patient homes and are the result of patient-handling tasks, medical devices, equipment and other factors related to the in-home environment," said Barbara Polivka, RN, PhD, in a University of Louisville press release about the project. Polivka is the PI on the NIOSH grant.
This virtual training allows healthcare workers to supplement textbook education without having to maintain the costs of a real home healthcare environment. By harnessing the power of graphics processing units (GPU) computing through OSC, the lighting and movement simulations feel incredibly real. It's like the most sophisticated, austere video game you've ever played.
"The gaming industry is so big and has so many incredible resources – we're riding on its coattails," said Don Stredney, director of the OSC Interface Lab.
A research group that Stredney is involved with published a paper detailing the project in Western Journal of Nursing Research. The paper subsequently won the journal's Best Paper of 2015 award.
While the hazards and the nausea disappeared when I removed my headset, this virtual world is a reality for a growing number of health care professionals. In a field with high turnover, it is the hope of Stredney and the research team that this training will make life easier for home health aides, minimizing injuries and reducing costs.
The next installment details the Interface Lab's Virtual Temporal Bone project. Follow us on Twitter, Facebook and LinkedIn for updates on this and more OSC projects.