Ed.—This post is the fifth and final for 2013 in a series on manufacturing in recognition of Ohio Manufacturing Month (October) and National Manufacturing Day (Oct. 4). For others in this series, follow the manufacturing tag.
---
As noted in this blog just a few weeks ago, the Ohio Supercomputer Center has launched a new program to foster the creation of advanced manufacturing apps to facilitate adoption of modeling and simulation by small and medium-sized businesses. Known as AweSim, the initiative is a collaborative effort of OSC, P&G, Intel, AltaSim Technologies, TotalSim USA, Kinetic Vision and Nimbis Services. I'm very excited about the potential of this new program, but industrial engagement efforts are nothing new to OSC.
Providing HPC resources to industry has been a key part of OSC's mission since even before its creation in 1987. The idea of establishing an Ohio Supercomputer Center with ties to industrial research appeared in Governor Richard Celeste's 1987 state-of-the-state address:
"To attract and retain industry, we must have the most sophisticated and advanced computer technology possible," he said. "The Ohio Board of Regents has organized a consortium of universities to buy a supercomputer. I will recommend funding for that supercomputer to link our universities and industries, giving researchers an essential tool to conduct the most basic scientific research and to solve the most practical design and manufacturing problems of our industry."
This call to address the research needs of industry was again repeated that year in budget testimony before the Ohio General Assembly and, consequently, in the budget bill that created the center in June 1987:
"… to be developed as a statewide resource available to Ohio research universities, both public and private. It is also intended that the center be made accessible to private industry as appropriate."
That first year, OSC staff had discussions with approximately a dozen potential industrial users from all over the state.  Battelle Memorial Institute was the first customer to utilize the Cray X-MP/24 system, at a rate of $1000 per CPU hour, and they were limited to a max of a couple hundred CPU hours.  By comparison, my first computer, an Apple IIc Plus, cost approximately as much at the same time. Industrial usage of OSC's HPC systems has continued at a modest level ever since.
However, the Center has also worked to provide other types of resources to Ohio's industry.  For example, in the late 1990's, the OSC Technology Policy Group led several initiatives, including Ecom-Ohio (an effort to measure Ohio's "readiness" for global electronic commerce), and the Ohio Business Privacy Forum (which dealt with emerging issues of privacy affecting markets, customers, employees and suppliers).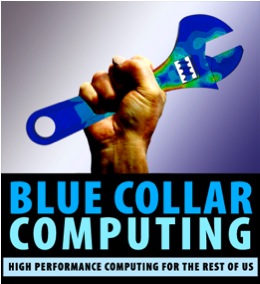 After many years of focusing primarily on Ohio, OSC made a mark on the national landscape in 2004. In Pittsburgh at the international supercomputer conference, SC2004, OSC Executive Director Stan Ahalt delivered a keynote speech titled, "Toward a Blue Collar Computing Economy," spelling out the obstacles small and medium-sized businesses faced when considering HPC-driven modeling and simulation.
In 2007, OSC partnered with Edison Welding Institute to launch an online weld simulation tool, combining the reach of the Internet with the power of supercomputing. Since that time, OSC has worked with numerous industry partners, such as PolymerOhio, P&G, TotalSim and the National Center for Manufacturing Sciences, to launch a dozen or so additional web apps, which address business concerns in manifold flows, container filling, etc.
OSC's national partnerships related to industrial support include the National Digital Engineering and Manufacturing Consortium (NDEMC, a $5 million public-private partnership to introduce M&S to supply-chain manufacturers in Ohio, Illinois, Indiana and Michigan who did not alone have the resources to implement this technology into their workflow) and the Extreme Science and Engineering Discovery Environment (XSEDE, a National Science Foundation-funded collection of advanced services, for which OSC's Dr. David Hudak serves as the industrial outreach programs manager).
Regardless of whether it is via traditional command-line based access or more modern web-app utilization, OSC continues to stay true to its mission to provide industrial researchers with an essential computational resource.  In just the past fiscal year, OSC's 25th anniversary, nearly two dozen businesses benefited from a total of approximately 12 million CPU hours of use, at a cost of just pennies per hour – a multiple orders of magnitude change from 1987.
With such a storied heritage in the field of HPC industrial engagement, OSC is well positioned for success in its newest effort, AweSim. As the Director of AweSim (say it out loud - no amount of CPU cycles can pay for a title like that!), I'm tasked with ensuring OSC continues to make history in this regard and am always looking for new ideas and partners. If you're interested in learning more, please contact me or visit awesim.org.