Editor's note: This column showcases the extraordinary talent and leadership of the librarians and staff at OhioLINK's member institutions. If you have suggestions for a library staff member who should be featured in this series, please email Meghan Frazer at mfrazer@ohiolink.edu (link sends e-mail).
---
A self-described "lawbrarian," Sandra Enimil uses her passion for intellectual property law as the head of the Copyright Resources Center at The Ohio State University Libraries.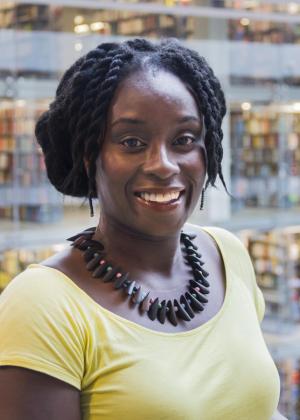 Sandra's path to Ohio State took a circuitous route. After earning bachelor of art degrees in political science and psychology from the University of Michigan, the Chicago native earned a graduate degree in international relations from the University of Ghana. She then worked at the Council of Foreign Affairs in New York, where she researched U.S. foreign policy towards Africa and women's human rights. She later pursued a law degree at the University of Illinois, followed by a master's in Library and Information Science.
OhioLINK recently talked with Sandra about her profession, advice for young professionals and the challenge of running 14 half-marathons in a year.
Why do patrons come to the Copyright Resources Center?
Sandra: People usually want to know how they can use someone's original work -- whether it's writing, art, music or video -- in their own work. The center, and copyright librarians in general, help faculty, staff and students understand how copyright laws apply to their classrooms, research or patient care. We do not, though, give legal advice.
Can you give an example?
Sandra: Say a professor from the art department is writing about two different photographers. He needs to show pictures by the photographers for the critique. In that case, the professor might contact me to determine if he needs to obtain permissions for these copyrighted materials.  Because the photos are being used in a critique, their use would likely fall under the 'fair use' exception. But if the professor wanted to include the images in a book because he thought they were interesting images, barring another applicable exemption, he would need to obtain the photographers' permissions. 
What led you to this profession?
Sandra: While in law school, I wanted to work in intellectual property law. But I also wanted to return to my hometown, Chicago, and it was very difficult to find positions in IP, as many positions are concentrated on the East and West coasts.
After working at a small law firm and consulting, I joined the staff of the Chicago Defender newspaper as its archives manager. I was responsible for obtaining the copyright licensing and permissions in order to protect the newspaper's images and articles. Through my work there, I connected with a number of librarians and archivists who encouraged me to consider library school.
How common are copyright librarians?
Sandra: There are about 45 people in this field at major research libraries throughout the United States. Within OhioLINK member schools, I think I am the only one. However, librarians across the state are doing this type of work, whether through their own interests or faculty or researchers asking for help.
What is the best part of your job?
Sandra: I get interesting questions all the time, and I learn something new every day. It may be something new related to the patron's field/area of interest. Or, it might be some innovative project that requires me to learn about a specific and applicable nuance in copyright law.
What advice do you have for others considering a career in librarianship?
Sandra: Find people who are working in areas that interest you and ask them how they got there. I reached out through cold calls to a lot of people. They gave me really good advice and suggestions on what steps I needed to take to get involved in this field.
What's one thing you do better than anyone else you know?
Sandra: I think I'm a pretty good host. Whenever I have friends in from out of town, I send an advanced itinerary of events and contingent events of things to do in Columbus.
Do you have a favorite place to take out-of-town visitors?
Sandra: The North Market. I really like it, because there's nothing like it in Chicago.  My guests usually enjoy checking out the various vendors, people watching and the food.
You set a goal to run 14 half marathons in 2014. Why?
Sandra: I wanted to do something major this year involving fitness. I initially thought about doing 14 full marathons and scrapped that plan because I thought it was crazy; I settled instead on 14 half marathons. So far, I have completed eight. I am taking a break from races during the summer and will resume in August. And, now that I'm more than halfway there, I'm now giving some consideration to running 15 full marathons next year.