COLUMBUS, Ohio (

May 31, 2023

) —
When Nicholas Johnson was in high school, he kept hearing that he should avoid office jobs because he wouldn't like working 9 a.m. to 5 p.m. behind a desk.
But Johnson decided to try an office position first before writing off the work environment. He applied for a position with the Ohio Supercomputer Center (OSC) and was hired in late 2019. OSC is part of the Ohio Technology Consortium (OH-TECH), a division of the Ohio Department of Higher Education.
Johnson works as an executive student assistant at OSC, where he focuses on office administration. The position has provided him with supportive colleagues and a low-pressure environment that has allowed him to develop his organization and communication skills, he said.
"My time here has put into perspective how a business runs and operates," said Johnson, a senior at The Ohio State University majoring in communication technology.
His position includes tasks such as handling travel and purchase expenses for OSC, taking inventory, ordering office supplies and helping as needed with any kind of work that arises during his shift. He also occasionally attends meetings alongside full-time staff and picks up additional assignments.
Liz Stong, program coordinator at OSC, said this is the first time the Center has ever had a student in this position and that Johnson has been a great fit. Johnson's willingness and flexibility to go beyond the original job description has helped ensure all of the Center's events run smoothly, she said.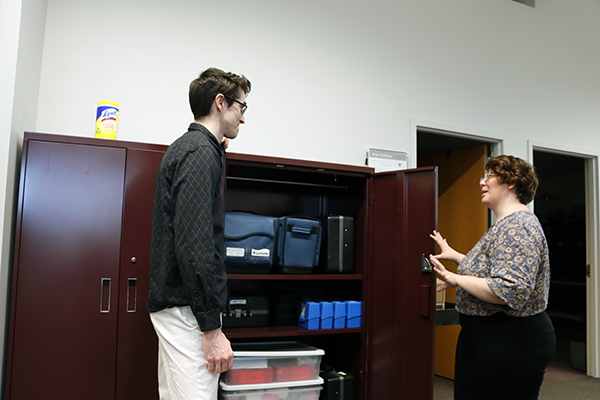 "He's essentially another set of hands," Stong said. "Do you ever wish that you could be an octopus? Get yourself a Nick."
Johnson said he began this position with little knowledge about the tasks he would be completing and has learned everything he needs to know along the way. He added that the tight-knit community at OSC has helped him succeed.
"I can always ask them for anything," Johnson said. "There's just always a big group of support here."
Stong said she hopes that this position will provide Johnson with the ability to apply the skills he has learned about office management at OSC to future opportunities after he graduates.
Students interested in working at OSC or its Ohio Technology Consortium partners OARnet and OhioLINK should monitor the Ohio State job board, where positions are posted regularly. Some positions are also posted to Handshake. As part of the Ohio Department of Higher Education's Ohio Technology Consortium, OSC partners with The Ohio State University for fiscal and legal support, including hiring processes. While some positions are open only to Ohio State students, others are open to applicants at any Ohio institution.
About OH-TECH:
Governed by the Chancellor of the Ohio Department of Higher Education (ODHE), the Ohio Technology Consortium (OH-TECH) serves as the technology and information division of ODHE. The consortium comprises a suite of widely respected member organizations collectively unsurpassed in any other state: OSC, OARnet and OhioLINK. The consortium drives efficiencies through common services provided to member organizations through the Shared Infrastructure and Consortia Services divisions.