COLUMBUS, Ohio (

Jul 11, 2023

) —
Doug Button attended the Ohio Supercomputer Center's Summer Institute (SI) camp, a two-week residential program where high school students learn about computer science and engineering, when he was going into his sophomore year at Thomas Worthington High School.
During the program he worked on a project in which he and a team built a mock network for a research base in Antarctica and was taught how to set up communication between routers and computers.
This project was Button's first experience working with a network, and he was curious about opportunities that would provide him with a real-world application for the information he learned during the camp. This inspired Button to reach out to his project lead at SI, Aaron Wise, director of networking at the Ohio Academic Resources Network (OARnet). OARnet and the Ohio Supercomputer Center operate collaboratively under the umbrella organization of the Ohio Technology Consortium (OH-TECH), a division of the Ohio Department of Higher Education.
The connection led Button to take on a part-time position at OARnet during summer 2016 while he finished high school.
"I learned about SI through my computer science teacher, so computer science and programming were obviously an interest to me already, but I was interested in seeing how they worked on a large scale and not just in a mock research setting, which is one reason why I came back," Button said.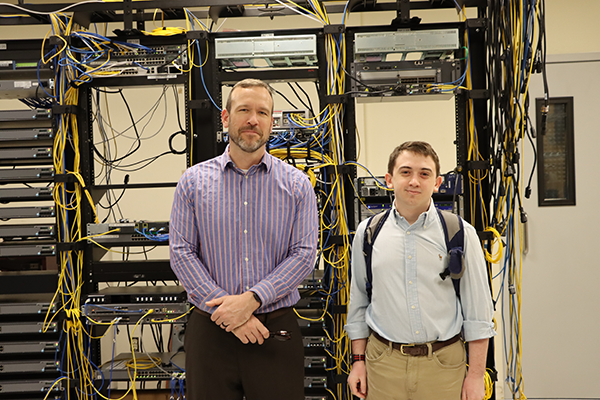 He continued working as an OARnet student employee while pursuing a college degree at Columbus State, where he majored in computer science with a specialization in software development.
Button began his time at OARnet completing a variety of tasks such as router configuration under the supervision of Wise. Button was a kind of "secret weapon" of the network operations center because of his work automating the process of checking firewalls and other issues to guarantee that no operations have deviated from the network's normal configuration, according to Wise.
"Doug is super bright. He could do anything that he wants to do," Wise said. "I think it's important to be an environment where we can nurture student employees, work with them and their class schedules, and have the type of culture that's interesting to them."
In March 2022, Button transitioned to a different position working with a bigger team to set up a network performance testing tool. Rebecca Dolan, interface and applications director at OARnet, said the project called for Button to perform work similar to what would be required in an entry-level staff job.
"His skills and his work ethic were high enough that we could give him this project that was something we normally give to a full-time employee," Dolan said.
In this position Button became more comfortable working in a team setting and learned more about software development in the field, he said. The project allowed Button to interact closely with Dolan's team, which includes his direct supervisor Steffan Pease, network systems engineering manager, especially during meetings and workshops.
"Student employees can develop their skills and interests by working on a variety of projects," Dolan said. "They can gain experience collaborating with a team of professionals and also learn how to work independently."
In January, Button began a full-time staff position with OARnet and will continue to work on the network performance project.
He said his various positions at OARnet have helped him grow and develop many of his skills, specifically interpersonal ones such as collaboration.
"I've really enjoyed the work that I've done here," Button said. "I think it's been a really valuable experience and the work is interesting. I think it's particularly interesting at OARnet because we do things a little differently than other places."
Students interested in working at OARnet or its Ohio Technology Consortium partners OhioLINK and the Ohio Supercomputer Center should monitor the Ohio State job board, where positions are posted regularly. Some positions are also posted to Handshake.
As part of the Ohio Department of Higher Education's Ohio Technology Consortium, OARnet partners with The Ohio State University for fiscal and legal support, including hiring processes. While some positions are open only to Ohio State students, others are open to applicants at any Ohio institution.
About OH-TECH:
Governed by the Chancellor of the Ohio Department of Higher Education (ODHE), the Ohio Technology Consortium (OH-TECH) serves as the technology and information division of ODHE. The consortium comprises a suite of widely respected member organizations collectively unsurpassed in any other state: OSC, OARnet and OhioLINK. The consortium drives efficiencies through common services provided to member organizations through the Shared Infrastructure and Consortia Services divisions.