COLUMBUS, Ohio (

Feb 13, 2023

) —
The Ohio Technology Consortium (OH-TECH), a division of the Ohio Department of Higher Education, delivers world-class technologies, information and expertise to provide Ohioans with a strong foundation for education and workforce development, scientific research and business innovation. The consortium's three organizations—the Ohio Academic Resources Network (OARnet), the Ohio Supercomputer Center (OSC) and the Ohio Library and Information Network (OhioLINK)—conducted a broad range of outreach activities in 2022 to connect with their communities and spread awareness beyond their everyday audiences.
Joint Initiatives
OARnet, OhioLINK and OSC together welcomed Kirk Herath, cybersecurity strategic advisor to Governor Mike DeWine, to the State of Ohio Computer Center (SOCC) for a tour of OSC's data center and OARnet's Point of Presence. OARnet and OSC also gave joint tours to staff from the offices of the Ohio Speaker of the House, Governor Mike DeWine, and Budget and Management.
As part of the OhioX Ohio Tech Day celebration, OARnet and OSC together welcomed Canal Winchester High School students with interests in networking technology as a career. The students took part in a tour of the OSC and OARnet spaces in the State of Ohio Computer Center following remote presentations made possible by OARnet's robust PreK-12 network.
OARnet
OARnet's work centers on bringing people together through technology, and this naturally extends to outreach. Connecting with multiple organizations and partners, OARnet is a well-known leader and active participant in many communities.
Working with Partners
With expertise in networking, OARnet is often called upon to provide insight to external partners. In 2022, OARnet continued to develop strong partnerships with multiple entities inside and outside the state and the networking community to contribute to national discussions. OARnet took part in programming related to the U.S. Department of Homeland Security State and Local Cybersecurity Grant Program (SLCGP), the Appalachian Regional Commission's multi-state Appalachian Regional Initiative for Stronger Economies (ARISE), and the NTIA's Enabling Middle Mile Broadband Infrastructure Program. Locally, OARnet participated in an Innovation Day hosted by the City of Dublin, Ohio, the Ohio Digital Government Summit in Columbus, the Regional Fiber Connect Workshop Series in Columbus, and the Ohio Higher Education Computing Council (OHECC) conference hosted by Ohio University.
OARnet hosted its Fall Member Meeting online and in person at the OH-TECH facilities. A range of guest speakers presented on topics like statewide cybersecurity and broadband efforts, building culture in a hybrid environment, and eSports. The OH-TECH building also played host to multiple OARnet partner events including the Ohio Two-Year Colleges Technology Council (OTCTC) Winter Meeting and extensive planning sessions with counterparts in the BroadbandOhio office and private sector vendors.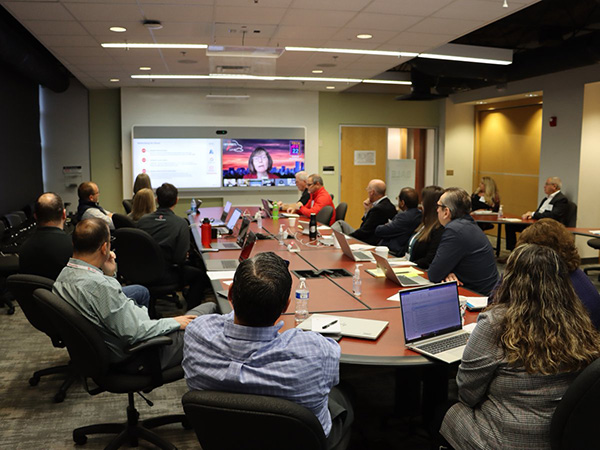 National Presence
OARnet is an active member in the national networking landscape with leadership roles in multiple national organizations. OARnet sent representatives to the fall and winter Member Meetings of The Quilt, a collection of regional research and education networks, in addition to the annual Board meeting and virtual CEO roundtables. As a member of the Schools, Health & Library Broadband (SHLB) Coalition, OARnet attended the annual reception and AnchorNETS conference. And as a part of Internet2, a national research network and service provider, OARnet participated in the Leadership Exchange and TechEX global technology exhibition, where chief technology officer Mark Fullmer presented in Denver on an NSF-funded planning use case.
Supporting Research and Education
Investing in the future of broadband technology, OARnet is actively collaborating with The Ohio State University Center for Quantum Information Science and Engineering (CQISE) and its co-directors Ezekiel Johnston-Halperin, PhD, and Ronald Reano, PhD, to explore the role quantum mechanics may play in the future industry. Meanwhile, program leaders Anish Arora, PhD, and John Hoag, PhD, from Ohio State are creating an internship program in tandem with OARnet that will help to educate the future broadband workforce. OARnet's executive director, Pankaj Shah, spoke to the inaugural cohort of BroadbandOhio's Community Accelerator Program, an immersive educational program on planning and broadband expansion for county teams in Ohio.
OhioLINK
OhioLINK brings libraries together to collaboratively supply the resources and services Ohio students, faculty, and citizens need to achieve their academic goals and aspirations. To do so, OhioLINK connects with the broader library community, increasing awareness of its resources and leading key conversations.
Education
In 2022, OhioLINK awarded two rounds of OhioLINK Affordable Learning Open Course Redesign grants to 59 faculty from 26 institutions across Ohio to help them learn more about teaching with no-cost-to-student course materials while also reviewing their syllabi to identify appropriate and relevant Open Educational Resources (OER) and library-owned options. These grants could save students more than $800,000 in a single year, with the savings compounding each year the courses are taught. By fall semester 2022, 12 faculty members had already started using OER, saving students $71,942.
Anna Bendo, OhioLINK's Director of Affordable Learning, has been working with the planning committee for a statewide OER conference, to be held in May. Bendo also presented about OhioLINK's Open Course Redesign Grants program at Kent State University and at the 2022 OpenCon Cleveland conference.
In addition, OhioLINK Executive Director Amy Pawlowski and Bendo were in talks with Intel and SEMI, a global industry association serving companies that manufacture semiconductors, about how OhioLINK can assist with facilitating the use of open course and training materials for Ohioans interested in upskilling in anticipation of job openings at Intel's Ohio One facility. They also presented to Intel grant recipients.
Following trends in open access publishing, OhioLINK negotiated upgrades to contracts with three publishers that offered member institution faculty the opportunity to publish their research in more than 1,500 open-access journals at no cost to them--and at no additional cost to their institutions. For faculty outreach, OhioLINK developed emails and web pages for member librarians to use to reach their instructors. By the end of the year, OhioLINK institutions had avoided more than $2 million in article publishing charges.
Conferences and Presentations
In 2022 OhioLINK attended and actively participated in conferences across the nation, providing broad expertise and insight into multi-type academic libraries that is unique even among consortia. At the Society for Scholarly Publishing, Pawlowski sat on the panel "Ask the Experts: Collection Development." For the Association of College & Research Libraries, OhioLINK Associate Director Theda Schwing was a panelist for "A Librarian's Guide to Cybercrime Mitigation." At the U.S. Electronic Theses & Dissertations Association OhioLINK Metadata and ETD Coordinator Emily Flynn sat on the panel "Types of ETD stakeholders and how they can affect ETD management."
OhioLINK presented many times throughout the year, including the annual conferences of the Northern Ohio Technical Services Librarians, Electronic Resources and Libraries, and the Academic Library Association of Ohio. Staff members also presented at the OARnet Fall 2022 Member Meeting, Eastern Gateway Community College Library Week, the National Information Standards Organization, and Times Higher Education.
OhioLINK also attended the annual Charleston Conference, the Innovative Interfaces User Group, and the Ohio Innovative Regional Users Group.
OhioLINK-Sponsored Events
Contributing to the extended library community, OhioLINK co-sponsored several conferences including the Academic Library Association of Ohio and the U.S. Electronic Theses and Dissertation Association. OhioLINK co-hosted the North American International Coalition of Library Consortia (ICOLC). Pawlowski also served as planning committee co-chair.
Ohio Supercomputer Center
OSC's work at the forefront of science and technology necessitates the Center's ongoing efforts to educate individuals, uplift research in Ohio and interact with the broader high performance computing (HPC) community to participate in global conversations.
SOCC Tours
OSC conducted informative and interactive tours of its data center in the SOCC on a regular basis for interested groups, including the attendees of its own Summer Institute and Young Women's Summer Institute programs. Other groups included members of the Artificial Intelligence (AI) Institute for Intelligent Cyberinfrastructure with Computational Learning in the Environment (ICICLE) and the MVAPICH User Group (MUG). OSC also welcomed prominent individuals from the research and computing community such as Thomas Gulbransen of the National Science Foundation (NSF) and representatives from Intel's Ohio offices.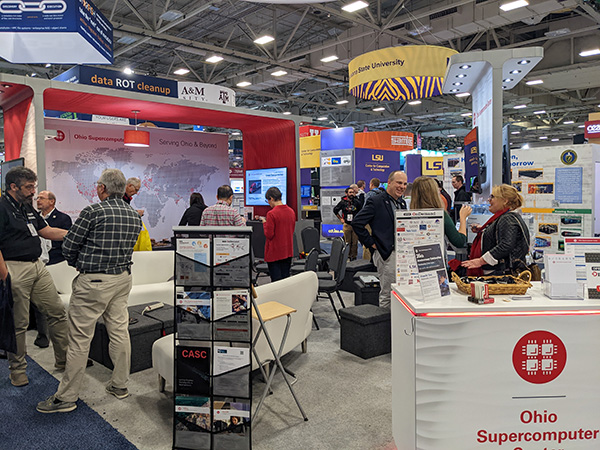 Networking OSC leadership and staff took part in the planning and execution of several large computing-focused conferences, helping to shape the national conversation surrounding high performance computing. These included the Supercomputing Conference (SC), Gateways Conference, CASC Fall Membership Meeting and the Practice and Experience in Advanced Research Computing (PEARC).
OSC has also contributed to the research computing conversation by playing host to conferences and meetings at the OH-TECH headquarters in Columbus, Ohio. OSC's own Statewide User Group (SUG) brings together OSC clients twice each year to share insight. The MVAPICH User Group (MUG) meeting convenes users of MVAPICH, an open-source library for high performance computing. And this year, the NSF-funded Artificial Intelligence (AI) Institute for Intelligent Cyberinfrastructure with Computational Learning in the Environment (ICICLE) All-Hands Meeting brought together ICICLE members from the 14 project partners to outline a plan for the next year.
Youth Education
To do its small part in educating tomorrow's research computing leaders and technology-minded scientists, OSC hosts the Summer Institute and Young Women's Summer Institute. These groups of high schoolers and middle-school girls, respectively, learn computer, math, science, engineering and programming skills through hands-on experiences at these overnight summer camps.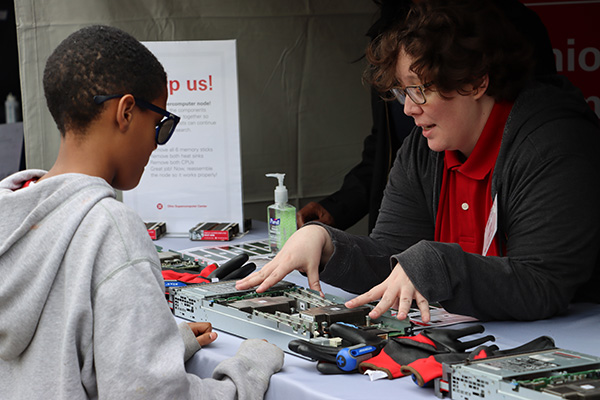 Additionally, OSC joined with its Ohio Department of Higher Education counterparts to host a tent at COSI's Big Science Celebration where youth helped fix a demonstration computer node and learned about how scientific computing enables discovery.
"What's So Super About Supercomputing?"
OSC Director of Strategic Programs Alan Chalker, PhD, presented the educational seminar, "What's So Super About Supercomputing?" at OhioX's Ohio Tech Day and for students at the Summer Institute and Young Women's Summer Institute. Also available online anytime, this interesting and accessible session introduces and demystifies the idea of supercomputing.